Tricks to get rid of blackheads with kitchen ingredients
Published : 2015-12-18 12:56:11
Categories : Beauty Tricks & Ideas
Dreaming of a flawless skin ?
Today, we will give you some tricks to get rid of blackheads and other impurities naturally in the nose, using ingredients that everyone can find in their kitchen.
First tricks against blackheads: egg white.
This is a very simple trick that you can do easily. You just have to separate the egg white from the yellow, put it in a bowl and then using a brush (avoid the cooking brush, this is not very hygienic ;)), apply the egg white on your nose or other areas you want to treat and let dry a few minutes. By drying, the egg white will become e film that you can remove easily and which while remove your blackheads at the same time.
Then, rinse with clear water and that's all there is to it! You can repeat this procedure twice a week.
Second trick against blackheads: a milk and nutmeg exfoliator!
Very easy to make with simple ingredients (milk and nutmeg), this exfoliating mask will help you to reduce your blackheads naturally! Mix one teaspoon of nutmeg to one or two tablespoons of milk.
Leave the mixture on your face and gently rub the mixture to exfoliate. In addition to reducing blackheads, this mask will rid you of dead skin cells and it is very beneficial for people suffering from acne.
Third trick against blackheads: lemon and jojoba oil
Put 2 to 3 drops of jojoba oil in a bowl containing half of a lemon juice. Using a brush or a soft bristled toothbrush, gently massage the areas with black spots, avoiding touching the pimples or wounds. Don't do this procedure more than once a week.
Now, we will give you other tricks with products that you cannot find in your kitchen but in your bathroom!
Fourth trick against blackheads: the snail slime products!
The daily use of cream with snail slime or snail mucus has more than beneficial on the disappearance of blackheads (in addition to help in the reduction of several major skin problems like acne, scars, etc…)
Fifth trick against blackheads: Tea Tree Oil!
Using a cotton swab or cotton, apply the tea tree oil daily to areas where the blackheads are. You can also use it against pimples, acne or any other imperfection! Tea tree oil is very effective!
Fifth trick against blackheads: aloe vera!
Using aloe vera on your skin will permit to tighten its pores and also to reduce the excess of sebum so less blackheads!
You can find also vera pure, or soap or even in Konjac Sponge, which brings us to the last trick!
Seventh and last trick against blackheads: Konjac sponges!
These small exfoliating sponges will permit you to eliminate your excess of sebum and to reduce the imperfections of your skin especially blackheads! For this, Konjac sponges with bamboo charcoal, peppermint and aloe vera are perfect!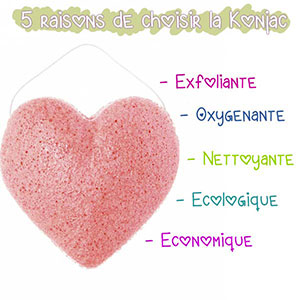 I hope that these little tricks will help you to get rid of those blackheads!
Don't hesitate to leave us your comments and send us your personal recipes against blackheads. We will be happy to publish them!
Have a good week-end and take care of you
Related products
Share this content