The most enjoyable and affordable permanent hair removal in the world!
Published : 2015-09-10 15:00:48
Categories : Permanent hair removal
Cosmeto Nature and Ant eggs products range Gutto Natural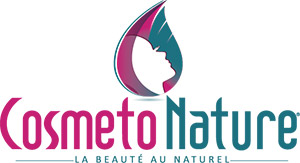 To inaugurate the opening of our blog, we decided to make an article to introduce you Cosmeto Nature and its products, especially the ant eggs range for permenant hair removal!
Cosmeto Nature was born in 2011, after a stay in Turkey of the company's founder, Hatice. She returned from her trip with an ant eggs cream which, she heard, had miraculous anti-regrowth effects.
She knew that in Turkey and the Middle East, women used to apply real ant eggs on their babies so the child would grow hairless but did not really suspect that a cream with the same effects would exist.
Being defeatist, she told herself that it was surely a scam and that there would be no result. But, she used the products, she saw her hair change: clearer, thinner and then, nothing grew!
And so, she decided to import this product so that everyone could enjoy a life without the abominable monthly waxing!
Many people dream of no longer having a permanent hair removal without going through expensive and dangerous processes. Today, thanks to the Ant eggs Gutto range, it is possible! Nowadays, Gutto products have been adopted by more than one thousand satisfied customers!
Cosmeto Nature is the exclusive distributor of the brand Gutto in France and overseas department and territories.
We always listen to you and are always open to your suggestions and good ideas to help us improve because if Cosmeto Nature continues to exist, it is also thanks to you and your testimonials of the efficiency of our products! :)
My name is Lamia and I joined Cosmeto Nature a few months ago. I would be happy to accompany you throughout this article and some of those to come.
What is the Gutto
range composed of?
The range is composed of:

- One 150 ml cream
- One 50 ml cream
- One 50 ml oil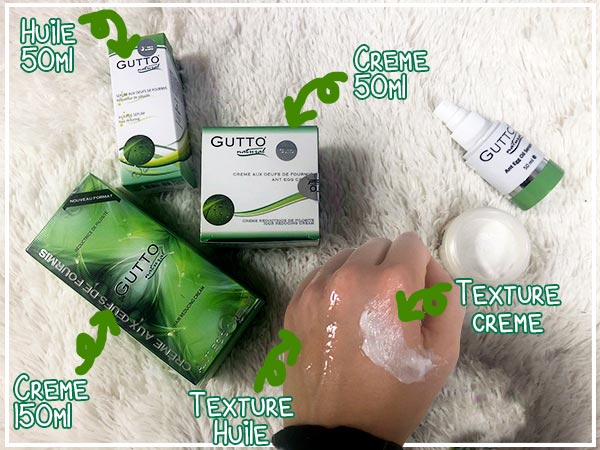 What is the difference between the two creams and the oil?

Both of the 150 ml ant eggs cream and ant eggs 50 ml cream contain exactly the same cream. The difference between the ant eggs cream and the ant eggs oil exists only in texture. The cream being drier and the oil being greasy, we recommend using the oil on the body because it is easier to apply on large areas. Otherwise, both have proved to be equally effective.
A rumour that says the oil would be more concentrated circulates on the net, but it's totally wrong.
How to use Gutto ant eggs products ?
The use is very simple. After each hair removal, on any area of the body, apply the cream or the oil on a clean and dry skin for 5 consecutive days and restart this process after each hair removal session until there is no more regrowth.
The hair must be removed from the root. The product won't work if you shave.
We advise the application of the product after a warm shower (not too hot because it's not recommended for blood circulation), just warm enough to open the pores in order to penetrate the product.
Both cream and oil contain formic acid, which has been used for thousands of years in the Middle East, Turkey and North Africa.
Formic acid, what is it?
Formic acid is an acid secreted by ants and more particularly present in ant eggs.
In order to preserve all the ants of the planet, our formic acid is created in a laboratory but remains just as natural.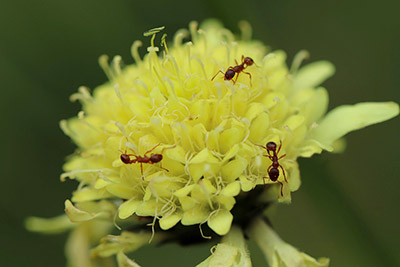 Natural? Dangerous? Or not?
One thing to know about our products is that they are safe and above all laboratory tested. These products comply with European standards. The vast majority of the product is made naturally; the rest is a mixture of non-harmful of preservatives because used in a very small percentage so that the product does not have a very short lifetime.
Moreover, we are constantly looking for improvement of our products and we follow the European safety standards.
The only case where the product can be dangerous is if it is an illegal counterfeit. In this case, it can become very dangerous for you (risk of allergy, irritation…) or you will have no result because the content would simply be a basic oil (sunflower, argan...)
When do you get to see the results?

The only drawback with the ant eggs products is that you have to be very VERY patient.
We sometimes get comments from people telling us that the product has not been effective for them. Most of the time, the problem is that the hair removal wasn't effective (broken hair, not removed from the root), or no hair removal at all (yes yes it happens), or shaved hair, etc.
Unless you are one of the top privileged people who have first-time results, do not expect to see a big change from the first use of the product.
The results vary depending on the person, type of hair and areas treated.
Nevertheless, an average of 2 to 3 months is needed to note a change of hair (hairs grow thinner, etc ...) and up to 6 to 12 months for a definitive result. Please note that the result and time vary depending on each individual.
The key to Gutto's success is patience and a good hair removal.
If you cannot wax your hair, go to a beauty institute! That said, you do not have to wax your hair. The goal is just to remove the hair from the root so any technique is welcome!
Depilatory spring, tweezers, electric epilator, threading, oriental wax, etc.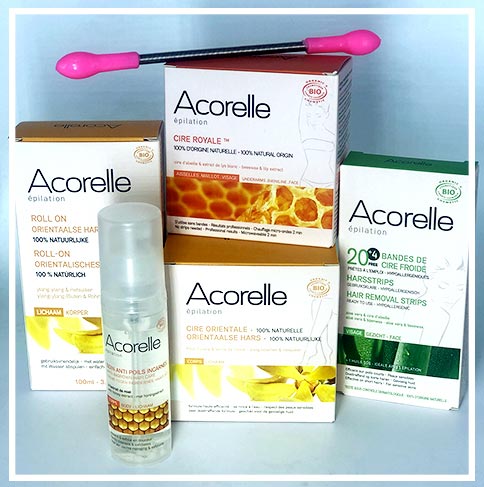 If you still have questions about the Gutto range, do not hesitate to ask us by e-mail! We will be happy to answer you.
Subscribe to our blog to see more of our events!
Until then, take care and see you soon!
Share this content