Beauty products to borrow from men
Published : 2017-02-24 11:28:20
Categories : Beauty Tricks & Ideas
Today we are talking about cosmetics, more specifically about those products that we should borrow from our man. Let's have a look in men's toilet bag!
We must admit it girls, we love borrowing stuff from our boyfriend: an XXL pullover for cocooning days at home, a tee-shirt to sleep or a shirt to put on when leaving bed...
Fashion has identified this trend and started several years ago to offer us some clothes directly inspired from men dressing: boyfriend jeans, loose shirt, derbies, blazer and many others.
In the same time, men have got rid of their complexes and now even dare to set up a real beauty routine with products eyeing us up from the bathroom shelf... Let's discover these products!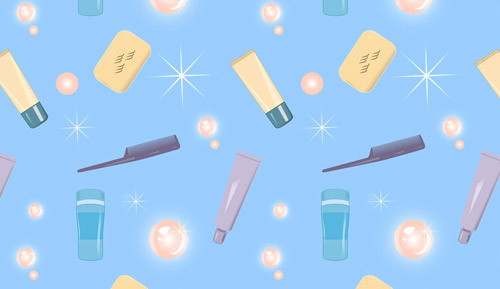 Shaving products
Let's start with body and facial hair hunting, a classic topic which has turned into obsession at Cosmeto's and no doubt that both you and your boyfriend prefer when your legs are silk-touch soft !
It is obvious, there are much more products at lower prices on shelves dedicated to man shaving than on women ones.
Our advice: we don't hesitate to pinch your boyfriend's shaving foam or, even better, oil! For now, shaving oil is still not well known although it is a huge ally to facilitate the razor passage and to protect our sensitive skin. Use it without moderation, particularly on sensitive areas (bikini line, armpits).
Careful! If you use Gutto ant eggs products for permanent hair removal, razor is forbidden!!!
After-shave products
Dealing with body and facial hair hunting also means red patches, irritations... No matter the shaving technique to get rid of hairs, the skin always needs comfort after our depilation sessions.
Men after-shave cares are more concentrated and calming to soothe razor burn due to an almost daily shaving, kind of hard for the skin!
Our advice: pinch gladly mister's rich and soothing after-shave care, perfect for our freshly depilated sensitive skin.
Hairstyle products
Tintin puff style, dishevelled mane, side strand of hair, man hairdo is like their style signature, a sacred art facilitated by many products: wax, gel, spray...
From texture to lasting, via the desired effect, male styling products will now be your tools to create your signature!
Our advice: plating, texturing, redesigning, setting up… To you simple and bold hairstyles, and don't forget to say thanks to your bae!
The fragrance
May the one who has never wanted to put fragrance for men raise her hands! No one? … We suspected it! The brands have clearly understood it and we can see in perfumeries more and more fragrances with woody and spicy notes.
Our advice: a few drops of the fragrance of your Valentine in the hollow wrist or on your scarf so that you will have his smell with you during all the day!
The deodorant
If you have enough of the strong smells of women's deodorants, let yourself be tempted by the smell of your man. Long-lasting action, neutral odour, perspiration regulator, we don't ask more!
Our advice: if you flee the strong female deodorant smell, also avoid those who have a strongly smell for man. They will cover your natural odour or the scent of your favourite fragrance.
If many products attract you into your darling's kit, note that it is advisable to not use male scrubs, especially if your skin is sensitive and dry, because the skin of men are thicker than the women's one. The action of these product could be a bit too "sanding" for us!
Now that you know which products you have to use, it's up to you to borrow some products to your half very discreetly!
Cosmetically yours,
Share this content